Expanding the digital
Give shape to your innovation with custom software, appealing design, and human-centred engagement.
We are here to make bold ideas happen
Development
Integrate business approach with a full cycle software development.
Achieve the synergy between technology and business, and strive for excellence in your digital growth journey. Develop, test and maintain custom software that strictly matches all your requirements.
Design
Integrate business approach with a full cycle software development.
Our team of designers crafts excellent creative solutions that are both functional and aesthetically pleasing. Create positive user experiences with flawless UX/UI design and a unique visual identity.
Engagement
Engagement design is a human-centred methodology that turns strangers into advocates through masterfully executed branding, strategy, and content. Achieve the synergy between technology and creativity, enhance your digital presence, and engage your community by thinking the way they do.
Engage your community in immersive digital experiences, increase brand visibility, and boost conversion rates through masterfully executed branding, strategy, and content.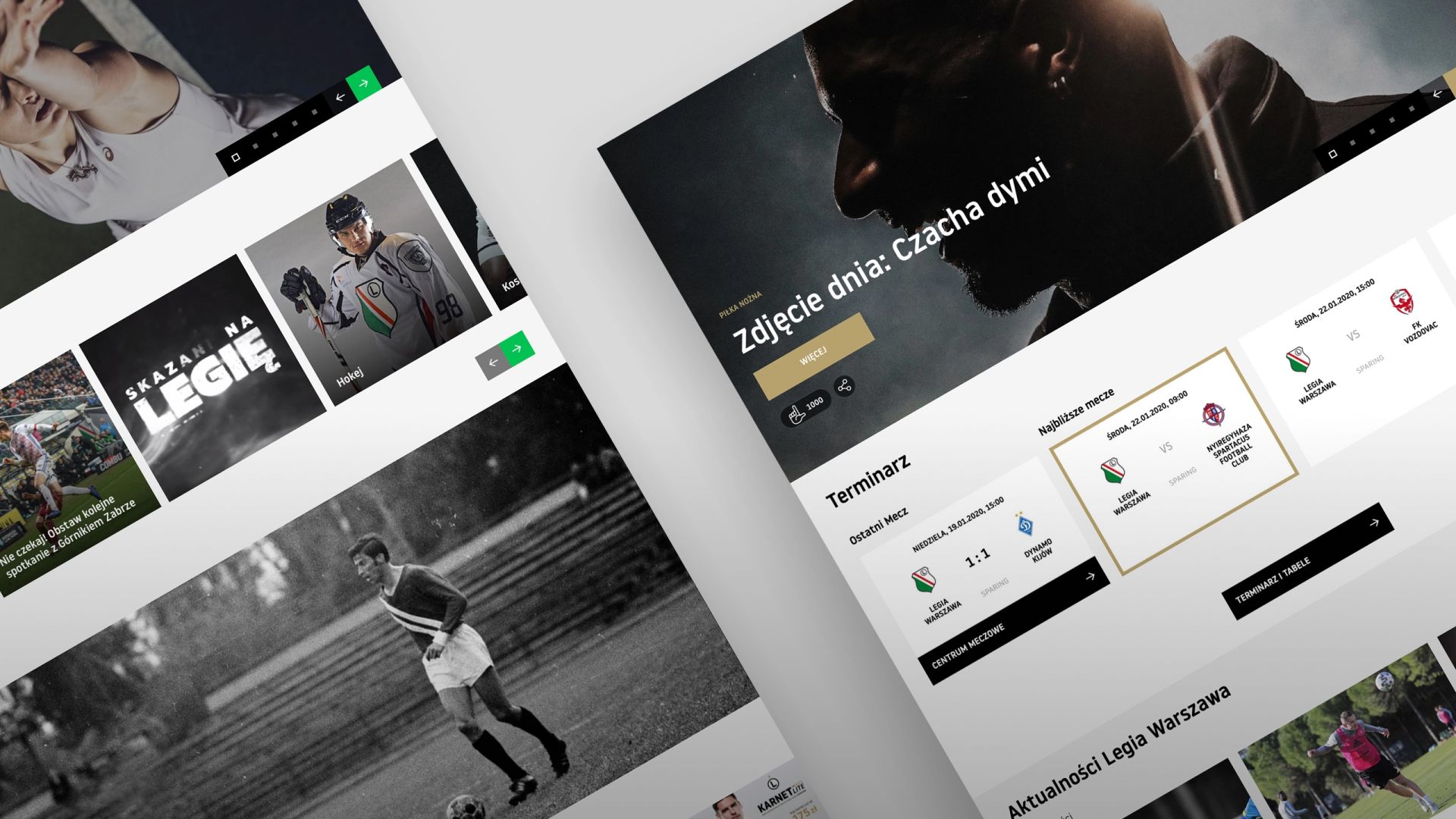 Award-winning website for a leading football club
Legia Warszawa, a professional Polish football club, approached hero/dot with the goal to build a new website and meet the demands of its fan community. As most users accessed the website from portable devices, Legia Warszawa opted for mobile-friendly solutions.

With a focus on exclusive content, fan engagement and a responsive web design, we developed a new site that was both attractive and appealing. The final result helped build up the brand image and win the Mobile Trends Award in the RWD category.
Read the success story or let fortune pick another one for you.
Cooperation models
Select the approach that best suits your individual needs, budget and estimated deadline.
SPARK Methodology
SPARK blends together agile and fixed costs & time, making it a perfect fit for complex, challenging projects.
Managed projects
Let us take full responsibility for your project and keep it right on track with agile, scrum, or waterfall methodology.
Fixed costs
For short-term, scope-driven projects, we recommend the waterfall method. The costs are clear from the get-go!
Team leasing
Employ the talent permanently or choose a flexible outsourcing option for the duration of your project.
Upgrade your digital
transformation strategy
Modernize existing business processes, replace legacy IT systems, and respond to customer needs with software that
strictly matches all your requirements
. We diligently deliver complex scopes right on the dot.
2
High technical expertise
Make sure your investment pays off by taking advantage of technologies utilised by leading companies. Become a driving force of your innovation by making good use of our
advanced technical stack
.
Does navigating the ever-changing world of digital technologies demand your full attention? Let us
take care of your project comprehensively
! By relieving operational burdens, you can focus on your next bold move.
Hero/dot acts as a one-stop shop for building
successful digital products
. Our team combines creativity and technical skills to transform your business ideas into innovative solutions built for zooming profits.
"Hero/dot has become a close
partner in our digital transformation journey. Their professional expertise and experience have been invaluable to the success of our projects. They supported
our strategic vision
and helped us deliver a set of digital solutions that have opened new opportunities for the club. "
Adam Piotrowicz
Director of Digital & IT at Legia Warszawa
Meet our process
Each project is unique and requires an individual, flexible approach. However, there are 5 universal steps in the software development process to deliver our scope on the dot.
Strategize
Let's go ahead and set up your
business objectives
and
strategy
. From now on, every decision within the project becomes purposeful.
Analyze
Next, we run a thorough
technical analysis
and effective
user research
to kickstart your project. Now, we are really prepared for your challenge.
Design
Designing
branding, content, UX/UI or product design
follow slightly different routes, but all of them are easy to follow. Be sure to check out our services to learn more!
Develop
This iterative process involves
coding, testing and deploying
. We develop a digital solution that fits your high standards and refine it until it's ready for implementation.
Maintain
Launching your product is an extremely important milestone. Now, you need to make sure it continuously
delivers a high-quality experience
to your users.
Selected services
What do we excel at? Why is it important for your business? How do we make it happen? Take a short look at the services we're frequently asked about!
Great content takes more than good writing skills.
Professional content writers ensure your brand's voice is consistent, your community stays engaged, and the marketing efforts pay off. As a matter of fact, content writing is meant not only for the people but also for the machines: crawlers, bots, algorithms. Many on-site, off-site and technical factors influence your website's visibility in the search engines – optimized content is surely one of them. 
Here are a few reasons why content writing boosts your online presence: 
Engage your users: masterfully constructed content keeps your users hooked and coming back for more. Before the words start flowing, we analyse your target audience to align our content with your marketing goals.  
Write with a purpose: we make it easy for your users to scan texts and accentuate key messages. Through perfect alignment with user interfaces and by paying attention to finer details, we improve usability, navigation and conversion.
Optimize content SEO: we maximize the content score with specialized tools, resulting in increased site visibility and improved performance. We don't write for the internet's archive – no worries about sunk costs!
Boost the brand experience: your brand's Tone of Voice shines through each sentence and paragraph, consistently across all media. We do so by carefully following a set of style guidelines established in your brand manual. 
Let's engage your users and get them smoothly to the place of conversion with excellent content writing!
Digital transformation is more than a buzzword that defies easy definition. 
It's the way technological advancement reorganizes and challenges organizations of all sizes. That's why we made shaping the future of your digital growth our mission. Let us guide you through this challenging process with strategic advisory and custom tools to digitalize your business processes. Instead of lagging behind your competitors – take the lead!  
Among many other perks, digital transformation allows you to:
Stay in the business: in today's world, digital transformation is neither a luxury nor an option. To boost customer satisfaction, increase operational efficiency and find new streams of revenue, you need to challenge outdated mindsets and adapt technologies that work for your business strategy.
Benefit from advanced technologies: your digital transformation can significantly improve security, scalability, data analytics, and remote collaboration. As many priorities may pile in front of you, let us navigate you through this process and select a solution that's the right fit for you. 
Automate processes and improve efficiency: many business operations can be either fully digitalized or improved to reduce the required amount of time, resources and manual labour. 
Find streams of revenue: capitalize on robust possibilities to engage and monetize your clients, users or fans. Web 3.0, blockchain and IoT are just a few newer additions to the ever-changing customer experience. 
Confused with the challenge that digital transformation imposes on you? 
Launch your mobile app and set a path for smooth monetization. 
Mobile apps have limitless potential for engaging and interacting with your community, as well as turning their preferences into profit with in-app shopping and loyalty programmes. Choose cross-platform development for a faster market launch in both App Store & Google Play, or strive for excellence with native app development for iOS or Android. No matter if you start from an idea, a prototype, or an MVP, we are ready to take it to the next level with full-cycle mobile app development. 
How can you benefit from developing your mobile app at hero/dot:
Expertise in mobile app development: at hero/dot, previously known as All in Mobile, we have been developing mobile applications since 2013. That means we're thoroughly prepared for your challenge! With an adequate technology stack and established processes, we ensure fast, smooth delivery of mobile applications. 
Take advantage of cross-platform development: if you're looking for cost-optimized mobile application development, Flutter is our framework of choice. It speeds up code writing with its hot reload feature, complies code to native without the need for a JavaScript bridge, and is high-performance. 
Digital product design in-house: not only do we develop mobile applications, but also build them from scratch. Our team of product designers, UX/UI experts, business analysts and engagement designers is here to respond to any of your needs from the early stages.
User-centred: when developing mobile applications, we take a user-first approach. The solution is masterfully constructed to fulfil your monetization goals by ensuring a seamless user experience that flawlessly gets your customers to the conversion point.  
Have an idea for a mobile app? Be sure to let us know, and we'll make your vision a reality in no time!
Custom web development offers more than popular off-the-shelf solutions.
Just as suits require adjustments to accentuate your silhouette, tailor-made software enables your business to outperform competitors. Scalable, secure and perfectly fitted to your requirements, custom web applications and websites help you achieve maximum efficiency. Reach your business goals faster, equipped with a unique set of functionalities and features unavailable in ready-made solutions.  
What are the key advantages of custom web development?
Stay ahead of the curve: transform and digitalize your business processes, automate time-consuming tasks, and scale the resources as your company grows or changes. As some of your rivals may use popular, ready-made solutions, you gain a competitive advantage through technology that has been made specifically to better your performance.  
Up-to-date technologies: our developers use battle-tested tools that guarantee seamless user experience, optimum speed and great performance. Our custom web development includes Vue.js, React, Angular.js, Node, .Net and others. 
Organization-specific: you hold the cards, giving us precise business requirements, which we then analyse to propose a suitable technological solution. During the User Acceptance Test (UAT), you verify if the final web application corresponds with your specific goals and needs. 
Seamless UX & Beautiful UI: no matter if you build a tool for internal purposes only, a persuasive and informative landing page, or e-commerce for your customers to indulge themselves in online shopping. Our design team is determined to make your digital product visually striking.    
The synergy between your business and optimal technical solutions? Achieved!
Cloud infrastructure contributes to cost savings, greater scalability and improved data analytics.
Some organizations, including those with decades of experience in running a successful business, may struggle with maintaining expensive on-premise hardware (in physical data centres). Cloud infrastructure can help you reduce operational costs, ensure continuity of service, and analyse large amounts of data. We develop cloud applications in the SaaS (software-as-a-service) model, taking responsibility for delivering technical excellence through scalable solutions that are fit for your business.  
Here are a few reasons why modern businesses opt for cloud solutions: 
Cost optimization: with flexible, pay-as-you-go pricing models, you foot the bills only for the resources that you use – and these can be easily scaled up or down as your needs change. As a result, you have increased control over the costs, resulting in long-term savings. 
99.99% reliability: in cloud infrastructure, your data is stored in multiple locations across the region (or even the globe) and geo-synchronized, allowing for non-stop continuity of service. In case of emergencies or unforeseen events, such as power outages, disaster recovery is smooth and worry-free. 
Better decision-making: improve big data analysis with artificial intelligence and machine learning to make better-informed business decisions. Store and manage large amounts of data – cloud resources are almost infinite. 
Foster remote collaboration: in uncertain times, the preference for hybrid and remote work has increased significantly. Custom collaboration tools with cloud-based data storage are a great fit for enterprises that mostly operate online, simultaneously from different locations.
Excellent cloud providers: both Amazon Web Services (AWS) and Microsoft Azure are well-established and reliable. As a matter of fact, choosing between them may be a troublesome task! Contact us today, and take the right pick for your organization.  
Wondering if the cloud-based infrastructure is right for you?
Digital product design is more than functional UX and stunning UI.
Take advantage of a complete, holistic approach and transform your vision into a functional digital product. The multidisciplinary team incorporates three core perspectives in full-service product development: technological, business and creative. From validating your ideas to the launch and growth phase - we act as a one-stop-shop, enabling rapid UX/UI prototyping, faster product development, and increased user engagement.
How can you benefit from developing your digital product's MVP at hero/dot:
Holistic and multidisciplinary: work with a team of product designers, business analysts, and engagement strategists to achieve a complete product. Then, we smoothly develop it in-house, resulting in a faster market launch. 
Save time and money: we pay attention to validating your business ideas, and leverage competitive advantage by analysing market gaps and target audience's needs. By doing so, we avoid costly errors and troubleshoot any inconsistencies before they cause any financial distress.
Grow over time: we determine core functionalities and implement them in your MVP, setting a clear path for evaluation and future growth. This approach is particularly profitable for startups that want to launch their digital product quickly, test its potential, and then improve or add new functionalities. 
Let us take full responsibility for your project, while you focus on your other business objectives.
The dynamic landscape of digital technology imposes various strategical challenges on transformation leaders in major enterprises and fast-growing companies. Managed development services enable you to rest assured that your project is delivered within the deadline and budget while guaranteeing high-quality standards.
Here are some key insights on why managed projects at hero/dot contribute to your success:
Unload your operational burdens:  as you delegate development services to hero/dot, we take care of project resources, such as staff, technology, schedules and guarding the budget. By freeing up some of your time, you can begin focusing more on strategic planning, which often requires your full attention.
Efficient project delivery: adapting new technologies to existing (or transformed) business processes is a priority for those who want to take their spot among industry leaders. We understand that – and prioritize tasks accordingly, building an environment where our committed development team is destined to deliver software speedily and ably.
Proven methodologies: we have the ability to select the most efficient project management methodologies for your projects. For complex software challenges, we usually opt for Agile and the Scrum framework. When working in a time & material collaboration model, Waterfall is the way to go. We have also developed our own methodology, SPARK, which works similarly to Time & Material while the budget is defined on a Fixed Price principle. 
Sense of partnership: doing business with us is always a fair-play game, as we create a culture of mutual trust, responsibility and dedication. We cover and answer your needs while allowing space for a sense of control over your own project.
Feeling bogged down by the project management details of your technology investments?
Memorable and meaningful, branding is the foundation of your company's communication. 
Customer choices are heavily influenced by their identity, lifestyle, and motives. That's why, at hero/dot, we encourage a strategic, research-based approach to branding. Since day one, we leave no room for lucky guesses, crafting everything your brand needs: naming, logo, taglines, UVP (unique value proposition), mission, vision, values, colours, typography and more. 
We can either start from scratch, or offer you rebranding services to refresh your image or upgrade whatever's not working for you.
Discover our approach to branding:
Success starts with strategy: we take an empirical approach to brand concepts, thinking of how the final creation will resonate with a specific target audience. Before pen meets paper, we explore your community and competitors to make strategic decisions down the road.
Consistent brand experience: your brand needs to stay equally appealing in time and across different channels. That's why we prepare two significant documents: brand book and brand manual, to ensure that all future specialists that work with your brand follow the same rules and guidelines.
We value your choices: some clients like to keep a pulse on how their branding is created, while others prefer to see only our three strongest propositions. We value your ideas, input and feedback.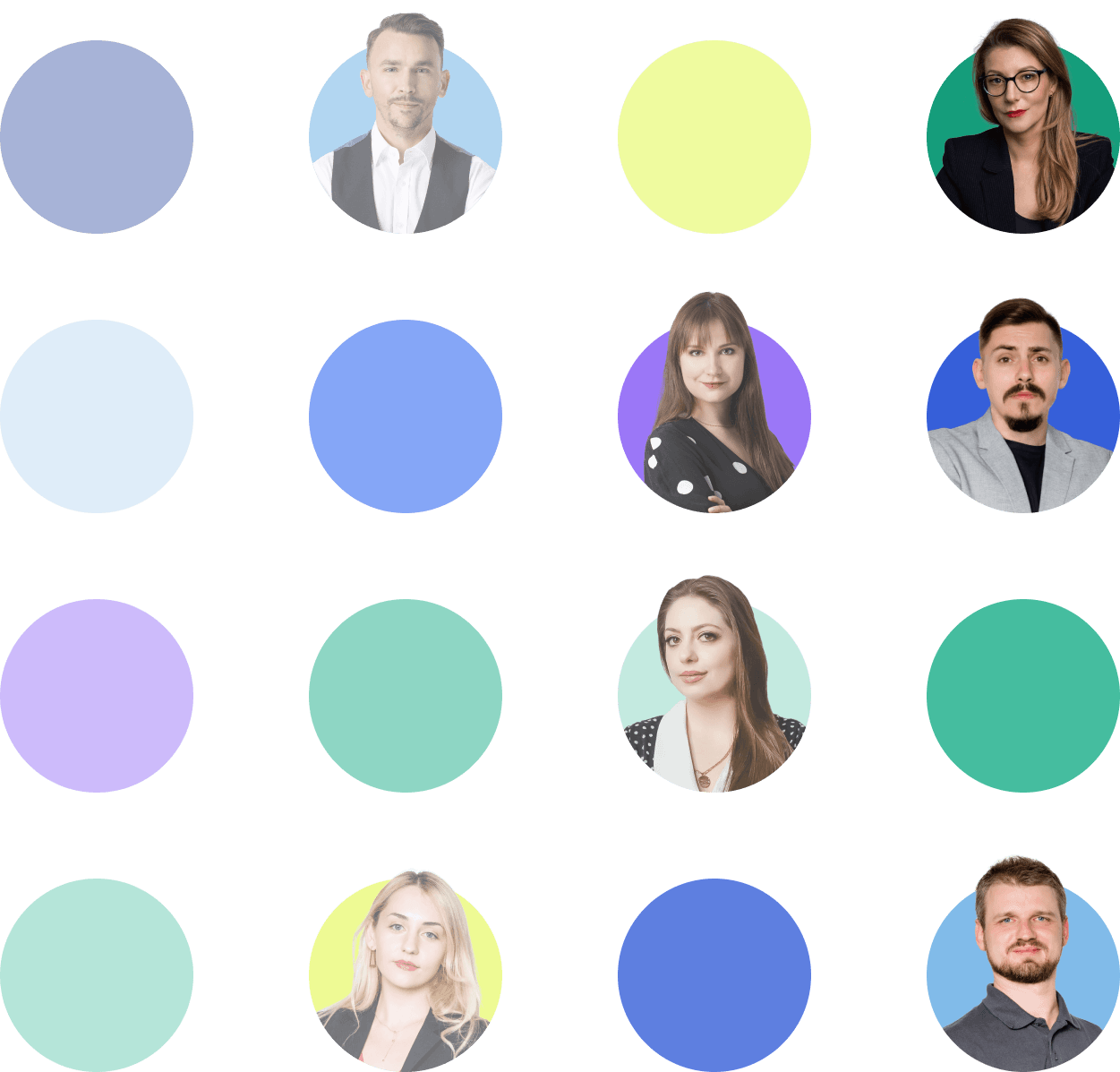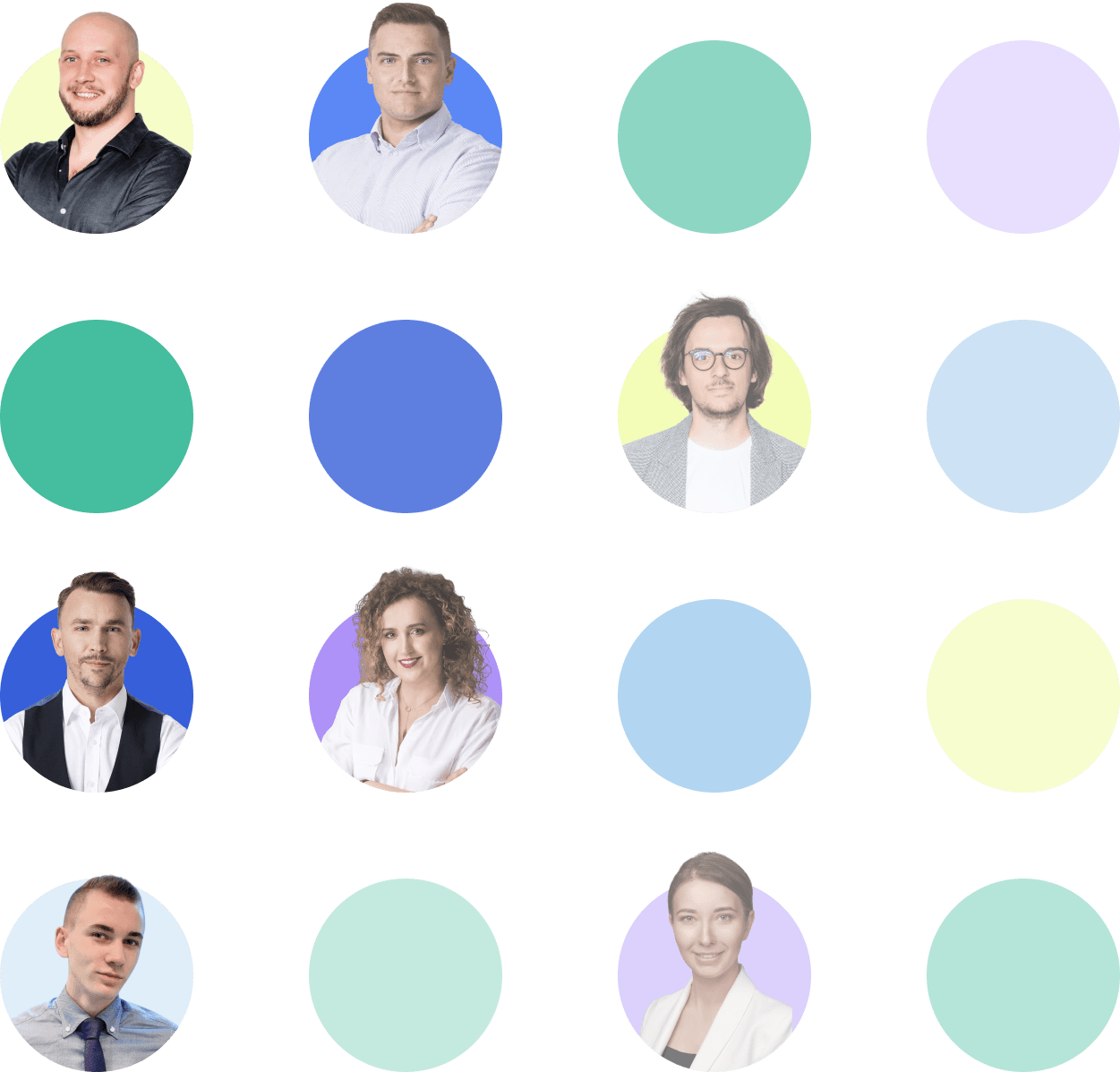 Partner with an experienced software agency
For almost a decade we've been delivering tremendous value to our clients. It's time for you to boldly shape your digital reality.
We are here to stand by your vision.